This year, GoodWe showcased its latest and specialized PV solutions in the All-Energy Australia convention, Australia's largest renewable energy exhibition. With more than 7 years' successful experience in Australia, GoodWe has been one of the Top 3 inverter brands in distributed solar for two consecutive years. Exhibits this time include familiar faces like the on-grid single-phase NS and DNS Series, three-phase SDT and MT Series, as well as energy-storage ES, EM and SBP Series. Besides, three new series are also introduced for the first time during the exhibition.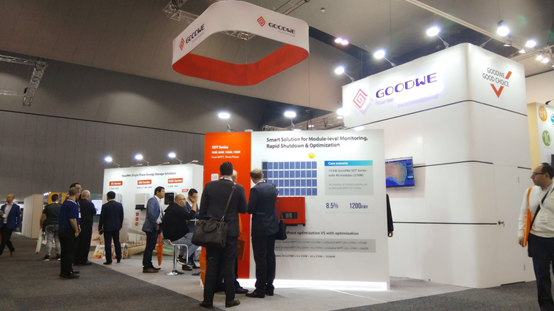 The brand-new ET Series is a three-phase high voltage energy storage inverter that enables enhanced energy independence and maximizes self-consumption through its export limit feature and time of use shifts for reduced electric bills. Covering a power range of 5Kw, 6kW, 8kW and 10 kW, it allows 30% DC oversizing to fully maximize yield during extreme hot and cold weather and features a wide battery voltage range of 180 – 550 V to provide flexibilities and compatibilities with different type of lithium battery for end users. Furthermore, it is specially designed that the instant peak output of Uninterruptible Power Supply (UPS) function can be boosted up to 100% oversizing for 60 seconds to fulfil the needs of inductive loads such as air conditioners or refrigerators which requires strong current for startup.
The new GoodWe DSS Series with 4.2kW, 5.0kW and 6.0kW is the first single-phase on-grid inverter in the market compatible with bifacial double-glass modules, which allows 12.5A input current per string. It also allows 35% DC oversizing to fully maximize capacity and 10% AC overloading. The new GoodWe DSS series inverter has lighter weight for easier installation both indoors and outdoors. Thanks to its reliable performance, the inverter can reach a highest efficiency of up to 98.6%. This Series was awarded with the prestigious Red Dot Design Award for its beautiful aesthetics and user-friendly design with a color touch screen LCD display. Apart from its beautiful aesthetics, user-friendly design and strong performance, the smart DSS series is in-built with Connector Temperature Sensor and Arc Fault Circuit Interrupters (AFCIs) which provides high-level safety.
Finally, the 25kW, 30kW, 36kW three-phase SMT series inverter is ideal for medium and large-scale commercial rooftop installations, providing a maximum efficiency of 98.8 percent and up to three MPPT routes for a particular environment. With its weight of just 40 kg and compact design, the SMT series is easier to handle and install than similar inverters in the market. Featuring a maximum DC input voltage of 1100 V, wider MPPT range, and a start-up voltage of 180V, the SMT series guarantees an earlier generation of power and a longer working time in order to maximize long-term returns and profitability for the system owner.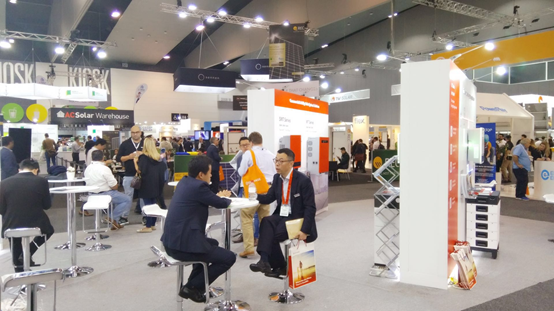 Australia had over 1.1GW of installed PV solar power in 2017, of which 53 MW were rooftop solar – C&I systems. A significant increase is estimated that there will be more than 150MW rooftop solar added in 2018. GoodWe sees this as a perfect opportunity to bring in our inverters as an eco-friendly and reliable way of supporting the people and country in their efforts to reaching their goals.