Hello Latin America: GoodWe gets one step closer to its Latin American customers, in their own language!
A closer interaction & more convenience for GoodWe's expanding Latin American customers are now within reach thanks to the opening of the company's Brazil and Mexico sales & services offices. From advice on what is the most suitable GoodWe inverter solution, to the process of installation as well as the maintenance of all of our equipment, our two Latin American offices have been set up to bring comfort to our local customers & partners.
GoodWe is one of the world's leading manufacturers of solar inverters & one of the key tenets of its global strategy is the localization of both products & services. In August only, GoodWe confirmed the opening of its local presence in these countries, which represent the two largest economies of the region and from where GoodWe aims to provide a more customized service to all of its Latin American customers. For GoodWe these two new offices are its 8th & 9th representations overseas.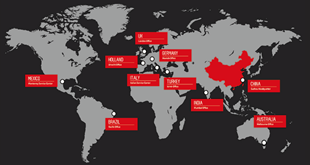 GoodWe's Brazil and Mexico offices are staffed by a highly competent team of engineers & sales executives with many years of experience in the industry & a deep understanding of the issues that the regional customers face on a regular basis. The company trusts that this new presence in the local markets will significantly contribute to our customers taking full advantage of the solar technologies designed by GoodWe.
On the same token, GoodWe has also recently launched the Spanish and Portuguese versions of its corporate website, including the company's information as well as the introduction of our products translated into these languages.
GoodWe Spanish website: http://es.goodwe.com/
Portuguese website: http://br.goodwe.com/
The contact details of our offices is the following
Brazil
Rua Abelardo 45,
Recife/PE, 52050-310
Tel: +55 54 99 25 044 91
sales@goodwe.com
Mexico
Oswaldo Sanchez Norte 3615
Col. Hidalgo, Monterrey, Nuevo Leon
Mexico, C.P. 64290
Tel: +52 1 81 28 71 28 71
sales@goodwe.com
soporte.latam@goodwe.com