With more than 1.8 GW of new solar capacity installed in 2018, the South Korean market has reached multi-gigawatt dimensions becoming in this way a key strategic market for GoodWe. There's no stronger evidence of GoodWe's deep commitment to the South Korean solar market than the establishment of GoodWe Korea Co., Ltd. GoodWe established its Korean company in Seoul at the beginning of this year and last week it had a successful attendance to the International Green Energy Expo & Conference held from April 3th to 5th at Daegu Exhibition & Convention, marking GoodWe Korea Co., Ltd debut on a large international PV industry event.
Getting to know GoodWe Korea represented a pleasant surprise for our local customers at the show. Going forward, our Korean partners can put at rest their previous concerns about the fact that GoodWe was far away. Now GoodWe has a fundamental presence in Korea that will be always close to its customers, providing all the comfort and support needed to build trust and assume responsibility for the quality of our products.
This was in itself very good news for our customers but the real interest of the exhibition is in the products that the company presented, that included the latest series of GoodWe inverters, including the three-phase, four-MPPT string inverter of MT series and the innovative GoodWe ET series, the three-phase hybrid inverter which has been recently awarded with the TÜV Rheinland recognition.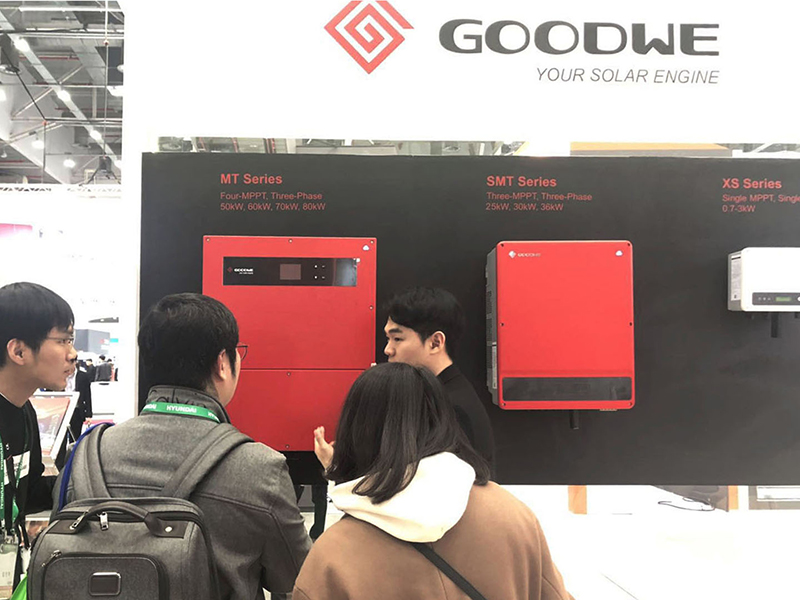 The MT series inverter adopts leading topology and an innovative control technology that enhances the maximum efficiency up to 99% and the Europe efficiency to 98.5%. The 80KW MT models features 50% DC oversizing and supports 10% AC overloading, increasing power generation by up to 10% and helping the user achieve higher returns. Also, the start-up voltage of these two models is of only 200V, and the working voltage of the MPPT ranges from 200-1000V. All these features ensure that from dawn to dusk, the longest operating hours ensure a higher utilization of the solar power.
Given the fact that the bi-facial module technology has become a way to effectively improve the overall conversion efficiency, an increasing number of photovoltaic systems have been adopting this technology. The GW80KBF-MT allows a maximum string input current of 13A, being able to adapt to large DC input generated by bi-facial and double-glass modules, significantly increasing the power generation. Most importantly, the DC bus capacitors assembled inside the equipment are all film capacitors that lasts three times longer than electrolytic capacitors. The output filters capacitors are able to meet more demanding standards for operation under conditions above 85℃ and humidities as high as 85%.Worth mentioning is also that this new system supports PLC communication, saving money on cables and construction, bringing low LCOE.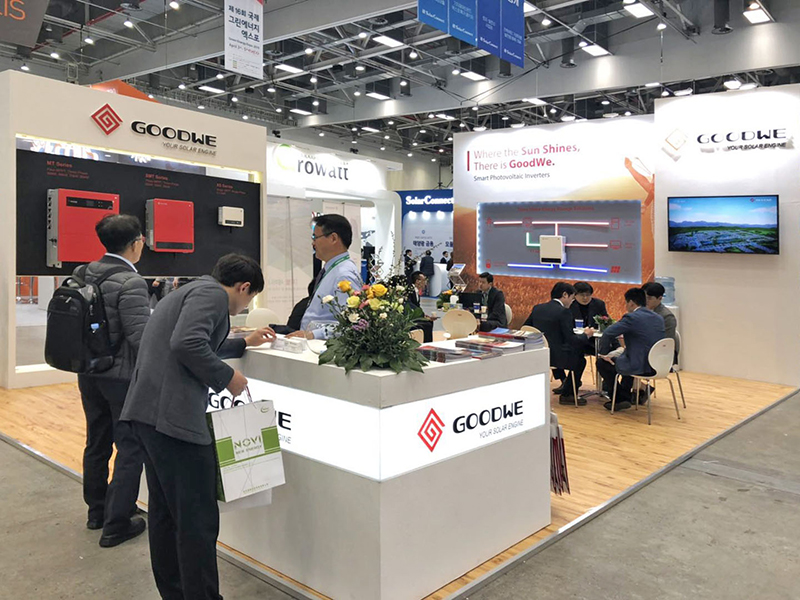 Following the continued successes in Europe, Middle East, LATAM, India, China and Australia, etc. GoodWe will be promoting its big capacity string inverters for large commercial projects covering ground, floating and roof-top systems, technically specialized for bifacial modules and high efficiency PERC module, which are increasingly popular in Korea.
Moreover, GoodWe ET is the world's most compact and lightweight three-phase hybrid inverter in the market with maximum efficiency of 98.3%, equipped with unique Uninterruptible Power Supply (UPS) Function, backup overloading up to 100%, AC charging functions and open-protocol EMS communication system. The product made GoodWe the winner of the TÜV Rheinland's 2019 "All Quality Matters" Award in recognition for the outstanding quality. This is the fourth consecutive year that GoodWe is recipient of this prestigious award, providing solid evidence that quality has consistently been over the years a key element in the mission that inspire it.
As part of this event,GoodWe Korea and Trina solar jointly conducted a technical seminar in which it was discussed the application of innovative solutionsin order to achieve a higher degree of power generation and higher solar plants yields.This seminar achieved great success, attracting many visitors.
After this successful debut, GoodWe Korea is truly part of the South Korean PV industry and it is ready to fly with the country to higher heights of service, quality and excellence.